With the new Cash balance feature, Knit gives users the option to run payrolls and pay employees on the next business day!
Adding Funds to your Cash Balance
Select the Profile icon in the top right corner of the screen, select Billing from the drop-down menu.
You will be directed to the Billing page, select the green Add Funds button under Cash Balance.
The Add Funds window will open, and the debit date for the requested cash balance funds will be listed.
Enter the amount of money you would like to add to the account and select the green Authorize debit button.
Please note that it can take up to 4 business days to confirm that the funds have cleared. Ensure that the company bank account has enough money before proceeding to add funds. In the event of insufficient funds, NSF fees will apply.
Using your Cash Balance
Underneath the Approve Payroll button on the Review Payroll page, there will be a Use Cash Balance button if your cash balance has enough funds to cover the payroll.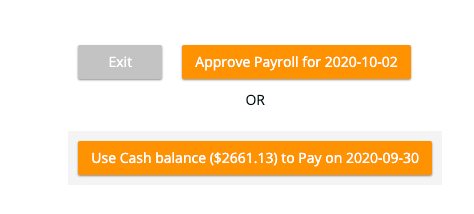 Once you select the Use Cash Balance button, you will receive the following message:
Are you sure you would like to pay this payroll on the next business day? Please also ensure that the numbers are correct, as no edits will be allowed after confirmation.
Once you have confirmed that the payroll is correct and no additional modifications are required, select OK.
FAQ
Q: Does the Cash Balance give me the option to pay employees on the same day I process payroll?
A: No, the Cash Balance feature does not give users the option to pay employees on the same day.
Q: Can I use the Cash Balance to cover my company's monthly usage fees or sundry fees?
A: Currently users can only use the Cash Balance for payrolls.