Knit lets you set up Managers in your company and assign direct reports to them (read more about assigning direct reports here).
By default, Managers can View and Edit employee HR information, but have no access to employee's Payroll or Compensation information. (These settings can be completely customized by a Master Admin.)
Setting Up an Employee as a Manager
Navigate to the Settings menu, and open up the Access Level tab:


Select the "Manager Levels" field:


You will see all of the people who are Managers listed here. (By default, the company Owner/Master Admin will always be considered a "Manager" by the system).
To add a Manager, click "Add Employee" on the right-hand side of this view, and select the employee(s) you wish to have Manager functions and permissions at your company:


---
Removing a Manager
To remove Manager permissions from an employee, click the Action menu next to their name to open up the access control menu.
Then, click the level you would like this employee to have going forward (for example — "Employee").
This will automatically assign that employee to the new Access Level.

Customizing Manager Levels
You may wish to customize what your Managers can access. To see exactly what the Default settings allow, click the eye icon on the right-hand side:

The Default settings cannot be changed, but you can always create a new Manager access level with completely custom settings by clicking the Plus icon next to Levels, and choosing to set up a new Manager Access Level: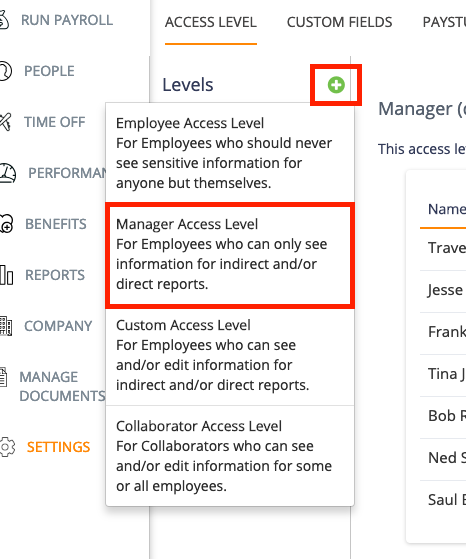 If you have any additional questions or need assistance, please contact us at support@knitpeople.com, or during standard business hours at +1 (877) 763-8808