Getting Started with Knit Time
Knit Time is a standalone app designed for time and attendance management and at this time is not directly integrated with Knit HR & Payroll. To begin using Knit Time, follow these steps to set up the platform:

1. Accessing the User Center:
In the Knit Time app, click on the "App Directory" located at the bottom of the page.
Navigate to the "User Center" section.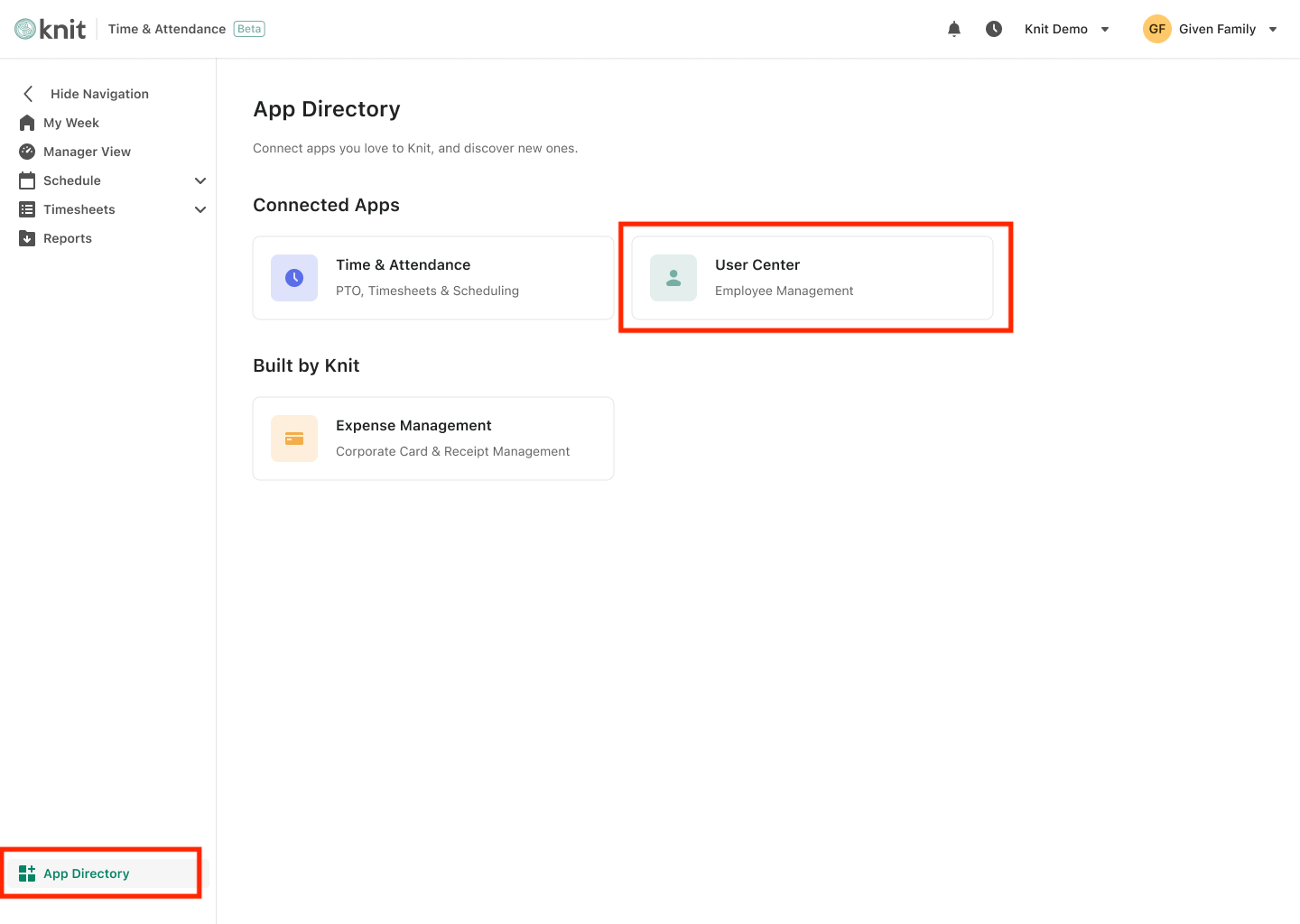 2. Creating Roles:
By default, the only role that exists is the Admin role.
Start by creating an "Employee" role to assign to your general employees.
It is recommended to create additional roles, such as "Manager," to delegate approvals effectively.
Choose the appropriate permission settings for each role to define their access and responsibilities.
Click on "Create Role" and provide the necessary details for each role you want to add, including the role name and permissions.
Note: You can customize roles based on your organization's structure and requirements. By creating specific roles, you can streamline the approval process and assign appropriate permissions to different user groups.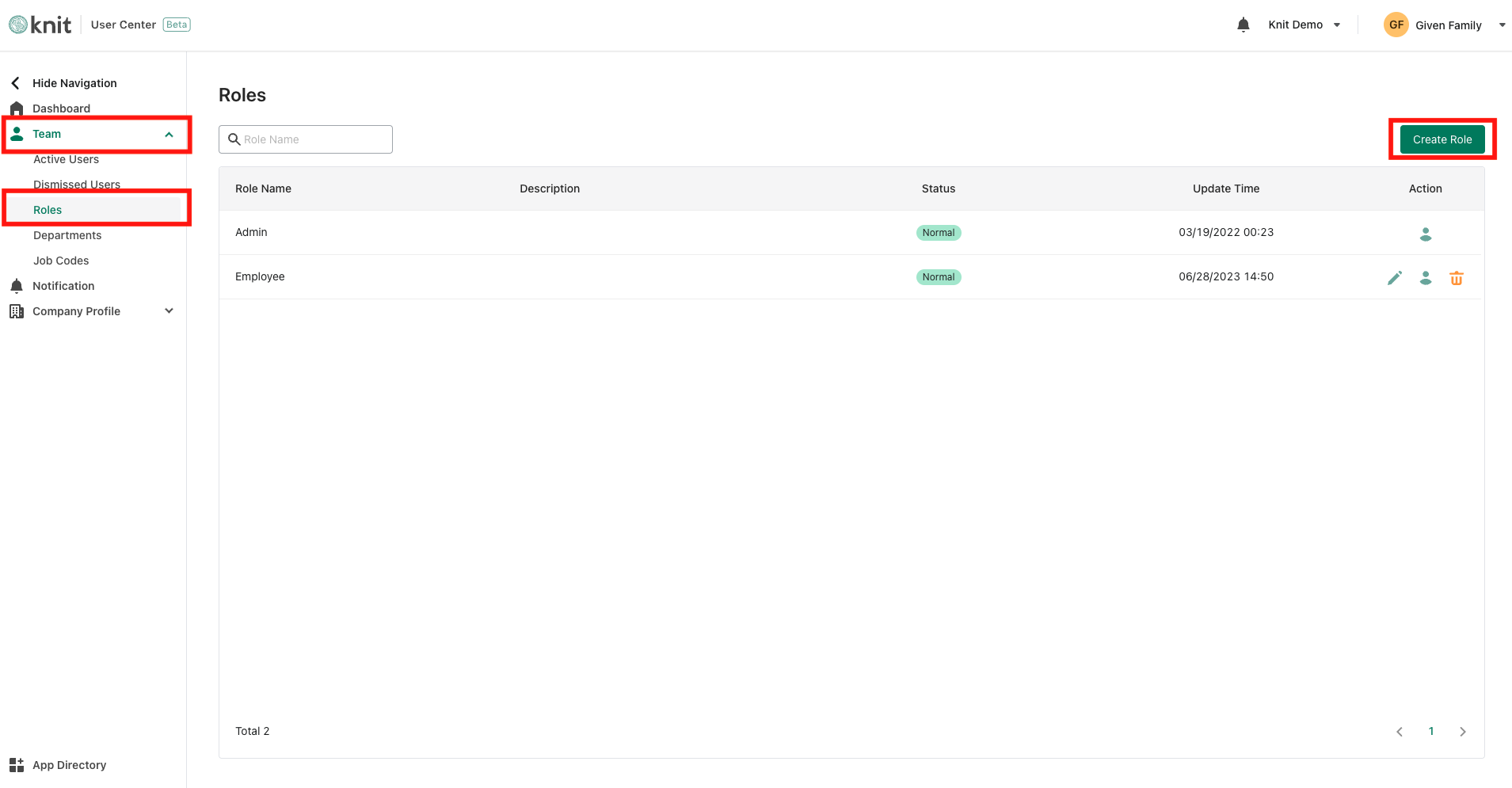 3. Managing Locations:
Select "Company Profile" and navigate to "Company Information."
Click on the "Time & Attendance" tab.
Choose the option to "Add Location."
Fill in the necessary information for each location, such as the location name, address, and any additional details required.
By creating and managing multiple locations in Knit Time, you can effectively track time and attendance data for different work sites within your organization. This feature enables you to have a comprehensive overview of attendance information across various locations.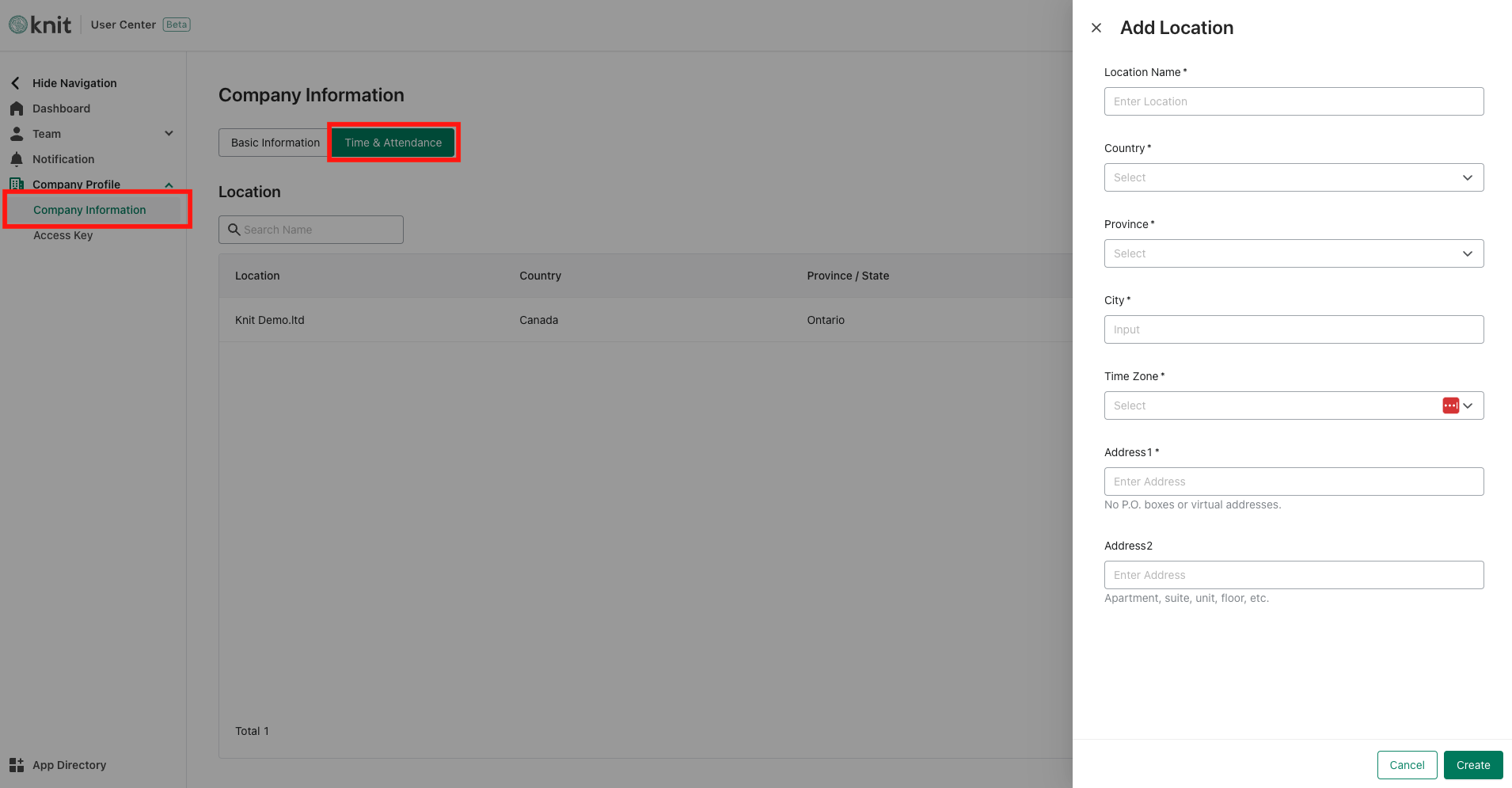 4. Managing Departments:
To manage departments in Knit Time, follow these steps:
Click on "Team" in the navigation menu.
Select "Departments" from the drop down menu.
Click on "Create Department" to add a new department.
Fill in the necessary information for the department, including the department name, its parent department (if applicable), and any required description details.

Parent Department (if applicable): If the department is a sub-department of another existing department, select the parent department from the available options. This helps establish the hierarchy within your organization.

Finally, click on "Create Department" to save and create the department.
Organizing your workforce into departments in Knit Time allows for better organization and streamlined management of employee time and attendance. By assigning employees to specific departments, you can track attendance data, generate reports, and analyze work patterns within each department.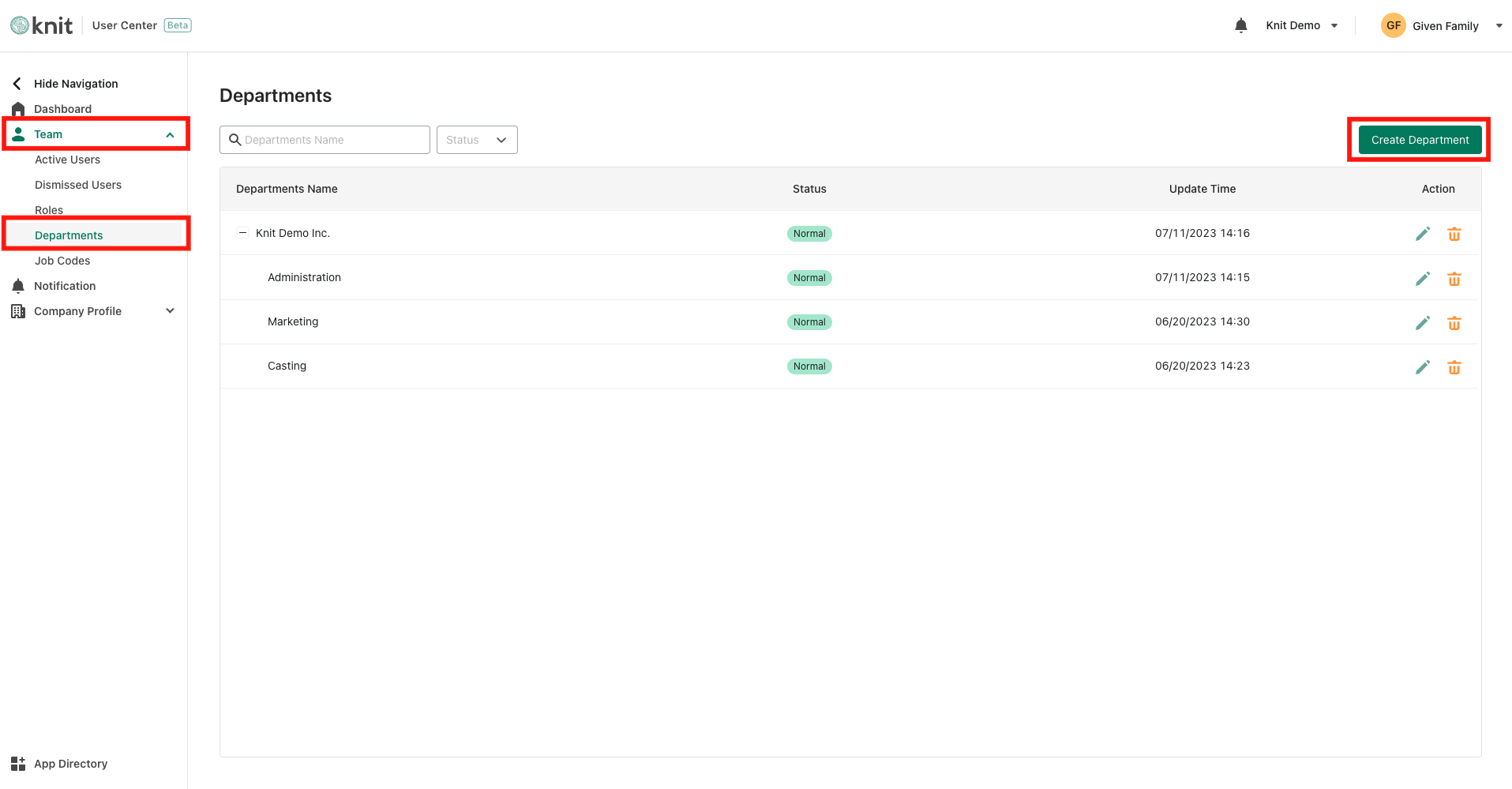 5. Managing Job Codes and Pay:
To set up job codes and manage pay rates in Knit Time, follow these steps:
In the User Center, select "Team" from the navigation menu.
Under the drop-down menu, choose "Job Codes."
Click on "Create Job Code" to add a new job role.
Input the required information for each job role, including the Job Code Number (6 digits), a descriptive name, and select its status (active or inactive).
You can also choose a specific color for the job code, which will be reflected on the scheduling sheet for easy identification.
Once you've filled in the details, click on "Create" to save the job code.
By setting up job codes and corresponding pay rates in Knit Time, you can efficiently manage different job roles within your organization and ensure accurate compensation for each position. This feature streamlines scheduling, reporting, and overall workforce management.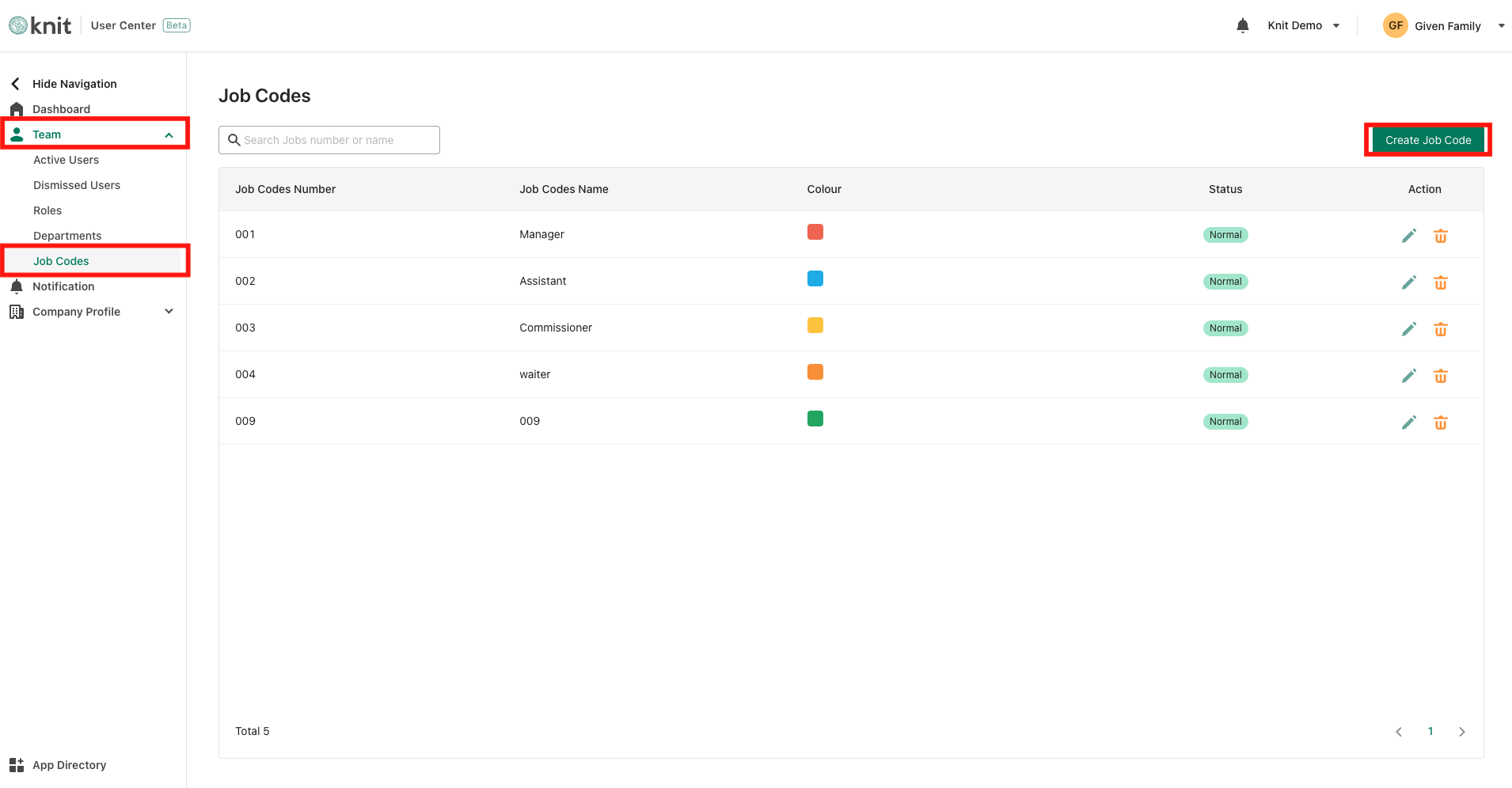 6. Adding Users:
To add users to Knit Time, follow these steps:
Navigate to the "Team" option in the navigation menu.
Select "Active Users" and click on "Add Users."
Enter the relevant details for the employee, including their first and last name, email address, department, and roles.
In the "Job Codes" tab, click on "+ Add New Job Codes."
Select the appropriate job code for the employee and specify the wages per hour.
Choose an effective date for the job code assignment and decide if there is an expiration date for the setting.
By adding users and assigning job codes in Knit Time, you can accurately manage employee profiles, roles, and compensation information. This allows for seamless time and attendance tracking, payroll management, and reporting within the system.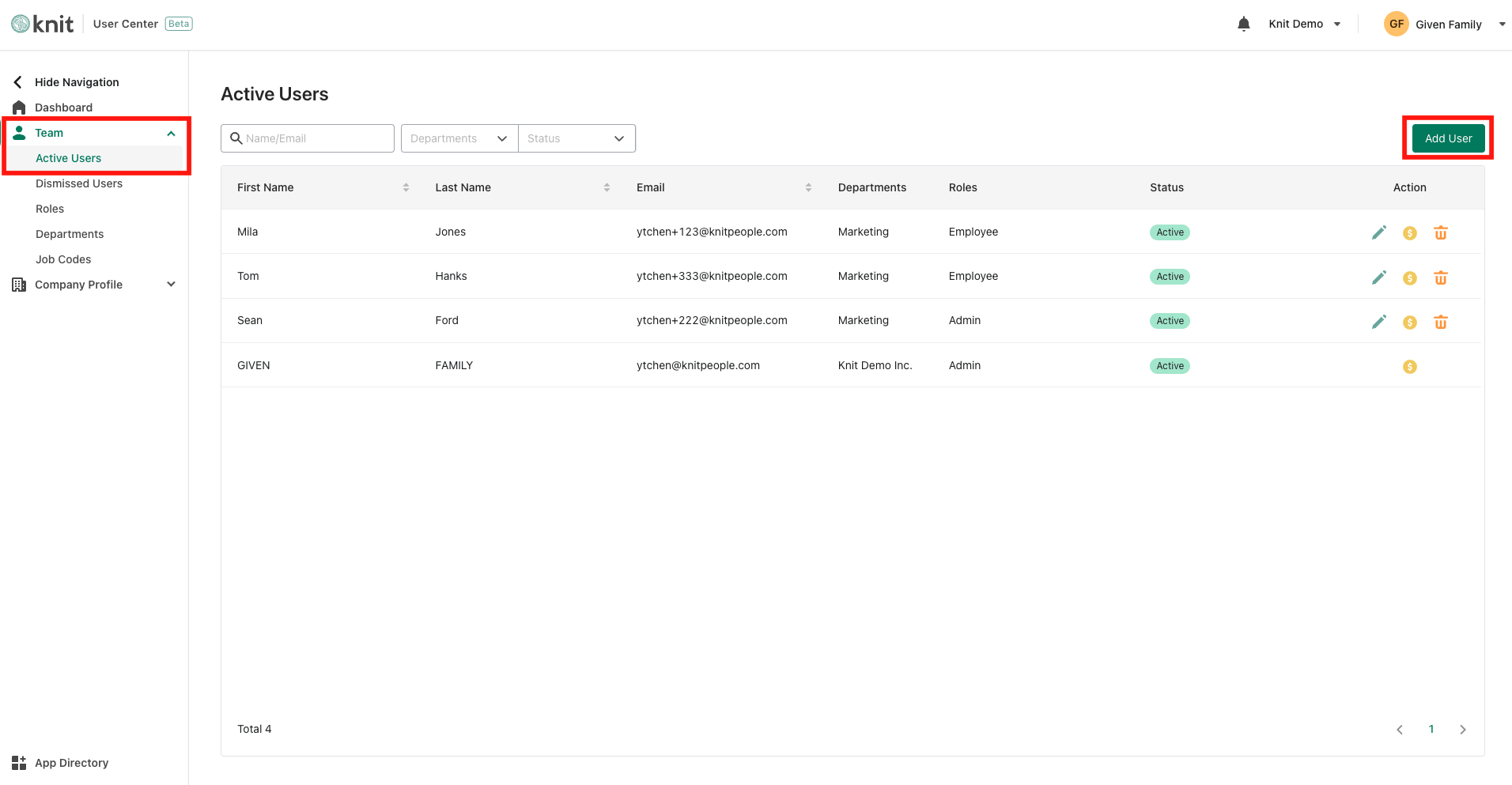 Congratulations! You have successfully set up the Knit Time platform. You can now begin using the app to manage employee clock-ins and outs, review and approve work hours, and streamline your time and attendance processes. Should you require further assistance or have any questions, please refer to our help documentation or contact our support team for personalized assistance.