Get started: Report previous Payroll
Once Employee's have been added and onboarded, Paygroups have been set up and assigned, and Income types & Deduction types have been created, the next step is to "Report Previous Payroll". Please review "Information and Tips" at the bottom of this page before completing your YTD entry.
Once inside the "Report Previous Payroll" step, You will be asked if all employees have been added? If you select "Yes, all of my employees are listed above" you will be taken to the next screen which will allow you to enter any employees that have been terminated in the current year. If you select "No, I am missing some employees and need to add them now" You will be redirected back to the employee onboarding screen.
Select Yes, and then click the Save button
The next screen will ask you to  enter the current year's terminated employees.  Select "No. I am missing some dismissed employees and need to add them now" then click the orange Add Dismissed Employee button . 
Fill in the required information for the terminated employee and click Save. You will be taken back to the screen pictured above, where you can add another terminated employee. Once all terminated employees have been added, select "Yes, All of my dismissed employees are listed above"

You will now be given 2 options for entering your Year To Date information
Enter YTD Manually - You can manually enter the YTD information for each employee. To do this, click on the Enter YTD Manually button. This screen will not allow you to save and return at a later time to continue entering data. All information must be entered before clicking save! 
Import Excel Template - To import the Excel template, click on the Import Excel Template button and select Download Import Template. A CSV. spreadsheet will be in your "downloads" folder. This template can be saved as you work on inputting all the data, therefore allowing you to enter information at your own speed and in your own time in multiple sittings.
When you have completed entering all the data into the spreadsheet, go to "Report Previous Payroll"in the Getting Started tab on the left hand side. After reminding the system that all your employees have been entered and dismissed employees have been entered, click on Import Excel Template, and choose to Upload Completed Template. Select the file on your computer and import it.
Now your YTD entry is reflected and can be viewed by clicking on the Reports tab and selecting the Year To Date report or you can view the entry in other reports such as Payrun Summary
Information and Tips 
When entering YTD's, It Is important to make sure all employees have been added, at least one paygroup has been set up, and all income (ex. Holiday Pay, Commission) and deduction types (ex. Life Insurance, Long-term Disability) have been created. This will ensure that both the manual entry screen and CSV download used for importing, correctly reflect previously added information. If you download a CSV for importing or go to manually enter YTD's before all other info is entered, system generated lists for employees and columns for income and deduction types maybe incomplete. 
Enter the Payroll Start Date as January 1st unless the business began in the current year. The Payroll End Date requires consideration because the YTD entry in Knit reflects the most recent payroll end date. If you plan on running a final payroll run outside of the Knit People platform, those numbers should be included in this YTD entry.  Use the drop-down menu to select the Paygroup (at least 1 paygroup would have needed to be created prior to downloading the YTD Import Template)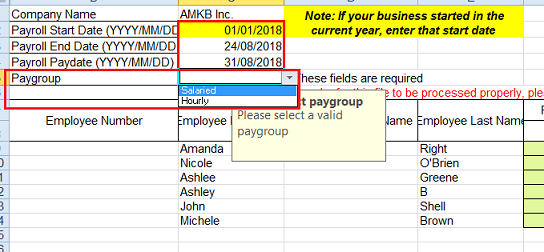 Using the light green highlighted areas, enter the information for each column. 
Regular Pay includes only regular pay, all other income types including statutory holiday pay are not included in the Regular Pay, this also applies to Overtime.
Time Worked on Holiday includes the hours and pay employees have physically worked on holidays. Statutory holiday pay where the employee has not worked but is paid, can be added to the Holiday Pay column
Enter the information for the remaining column headings 

Enter the Employee and Employer CPP and EI contributions
The Accrued Vacation Pay column requires you to enter any accrued vacation on file as well as any amounts of vacation already paid up to date (accrued + paid). Calculations are taking place behind the scenes
The Paid Vacation Pay column reflects only the amounts of vacation paid out.
Vacation Pay (above image) and Paid Vacation Pay (below) are most often the same amounts but both columns need to be entered for proper importing.

---
---